02 April 2017
In January, I had the wonderfully good fortune to play a house concert in Vancouver. Not only that, but it was the first concert in a beautiful space that had been designed specifically for hosting musical performances. It was also a huge lesson for me in accepting generosity with grace.
The way I connected with the hosts was pure serendipity. Early last year I chanced to meet a man who was visiting Whitehorse from Vancouver. Ben and I struck up a conversation during a break in the show we were both attending and had such a great time chatting that we kept in touch afterward.
Around November, I organized a trip to Vancouver for mid-January to take a course for my day job. I hadn't played in Vancouver since my CD release show in 2013, so I thought I'd try to book something while I was already there. But a couple of months is short notice and all the usual venues were already booked. So I asked around to find out if anyone knew of house concert hosts. I had a hunch that Ben might have some music-loving friends, so I asked him if he knew of anyone with a nice piano in a living room that could hold about 20 people. Well, he did!
Ben's friends, Les and Patti, had just recently rebuilt their house from the ground up. Since Patti is a concert pianist and music professor, she made sure the new music studio was a space in which she could not only give lessons, but also hold performances, right down to having hidden outlets in the floor for possible sound equipment.
We had a Skype meeting and all hit it off. I was so grateful and surprised to have stumbled into the perfect venue with kind hosts, and they were excited to hold their first concert in the new music studio. They offered to provide snacks and to have Ben bartend and to take the reservations.
In the first email invitation I sent out to my BC fans, I suggested guests bring some food to share in order to thank the hosts for opening their home. I heard back from Les and Patti that this wasn't necessary, that they were happy to provide the food. I realized then that I was having a very hard time accepting their generosity. I had never met them before and they didn't owe me a thing, not even the kindess one naturally extends to one's friends. I felt like I should do everything I could in order to organize and support the event, the way I've always done for all my shows. It didn't immediately occur to me to just let them take care of, well, everything.
And they did. They went absolutely above and beyond, organizing desserts and drinks and glassware and chairs and guest invitations and reservations and encouraging CD sales and more. Because Patti is a musician, they knew what it is like to be a working artist. I was overwhelmed to have such all-encompassing support and generosity from people I'd never met, but who believed in me anyway. It took some conscious mental effort to feel okay with saying yes, and to feel I deserved the help.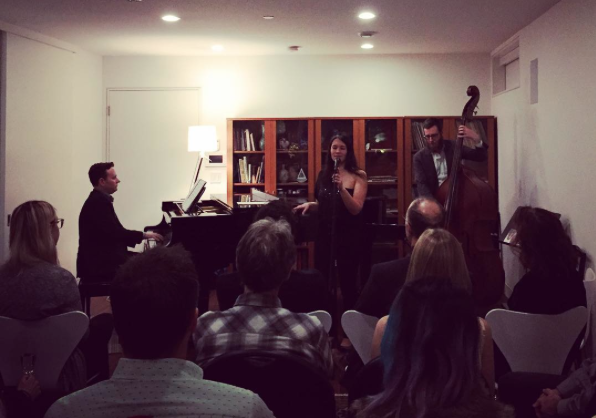 The funny thing is, for a while I've been putting energy out into the universe asking for help. The reality of working a day job, being a single mom, and a self-managed musician is a big one, and I have often felt very alone when it comes to creating performance opportunities, especially outside of the Yukon. My hope was to find a business partner of some kind, a manager or an agent, someone with established connections, in order to delegate some of that work. And yet when the help came to me, I didn't recognize it right away because it looked different from what I'd had in mind. I learn this lesson over and over in my life, that the answers we seek often look different from what we expected.
With the scintillating Tilden Webb on piano and badass bassman Paul Rushka. Photo by Will Stroet.
07 July 2016
Lies of Handsome Men paired with Casa Dos Vinhos Da Madeira Malmsey
The final song Peter Turner paired up with a wine ends on a sweet note. I've loved Francesca Blumenthal's song Lies of Handsome Men since I first heard it sung by Stacey Kent. The lyrics draw you in and entwine you in a poignant and self-deprecating story.
The song is not widely known although it has been recorded a number of times, including recordings by Blossom Dearie and Cleo Laine. I found as many versions as I could before taking it into the studio and heard it done with lush arrangements, as well as piano-centred arrangements, but never simply with guitar. The Pairings recording features Reg Schwager's beautiful playing and I'm delighted that we were able to tell the story together.
Even better, in May I received a letter from Francesca Blumenthal herself. She said that she loves how I interpreted her song, and that she was drawn to my original songs, as well. These are some of best compliments I've ever had the pleasure of receiving. What a thrill!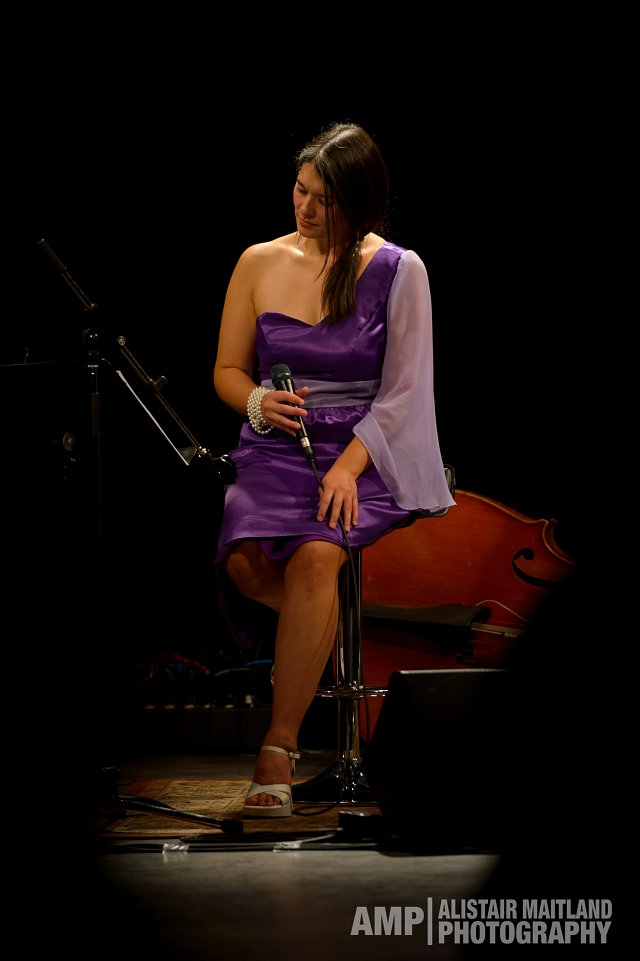 Here are Peter's notes about this pairing:
Ideal to pair with something sweet, gingery, and desserty. Think sticky toffee pudding or gingerbread. Made with Malmsey (or Malvasia) grape, this is the sweetest of four Madeiras made with traditional grapes that progress from dry to sweet. These wines can be aged for incredible periods of time. I have drunk an 1837 vintage, and am holding a second bottle of the same in my collection.
Madeira has two faces . . . sweetness that rolls off your tongue, and wraps around a dessert with caramel and spice notes. Its other face is trickery . . . It can age forever, only getting more alluring and desirable, and at the same time having a disguised kick that sneaks up on you and knocks you off your feet when you are least expecting it. A few of you may have heard a song called "Have Some Madeira, My Dear", which talks of Madeira and the lies of handsome (or not-so-handsome) men.
Check out the song here: fawnfritzen.bandcamp.com/track/lies-of-handsome-men
For my at-home pairing party a few weeks ago, I made gingerbread cake. Grating the ginger takes time, but it's soooo worth it! The cake is not too sweet, especially when topped with a dollop of unsweetened applesauce and barely-sweetened whipped cream... Check out the recipe below.
---
GINGERBREAD CAKE (from Hollyhock Cooks)
serves 10-12
1/2 cup soft butter
1/2 cup brown sugar
1 egg
1/2 cup unsulphured molasses
1/2 cup finely grated fresh ginger
2 tsp vanilla extract
1/2 milk
1 tbsp vinegar
1 cup whole wheat flour
1 cup unbrelached white flour
1 tsp baking soda
1/2 tp salt
Preheat the oven to 350F (after grating the ginger!). Lightly oil a 10-inch springform pan.
In a large bowl, use a fork to cream together the butter and sugar. Whisk in the egg, molasses, ginger, and vanilla.
In a small bowl or in a measuring cup, combine the milk with the vinegar. Add this to the wet mixture.
In a third bowl, combine all the remaining dry ingredients. Slowly stir the dry mixture into the wet with a wooden spoon just until they are completely combined. Pour the batter into prepared springform pan and bake for 30-35 minutes or until a knife comes out of the centre clean. Allow it to cool slightly before removing. Serve warm topped with whipped cream and applesauce.
Moreka Jolar, Hollyhock Cooks
30 June 2016
Can't Find My Way No More paired with Paul Mas Estate Malbec
Next up for Peter Turner's pairings of wines with songs from Pairings, we have a strong, full-bodied red wine. Can't Find My Way No More is an original tune I wrote in the throes of jet lag. I originally intended it as a vocal/drum duet and was inspired by the sound of spiritual music after watching 12 Years a Slave on a flight home from Europe. I was also feeling particularly lost and vulnerable at the time. Where does a lapsed Catholic turn to for solace?
Daniel Janke and I have played and recorded this song together a number of ways, and I've also performed it solo, using the audience as my percussion section. I love that it's been so versatile and I feel as though I can still make new discoveries with it.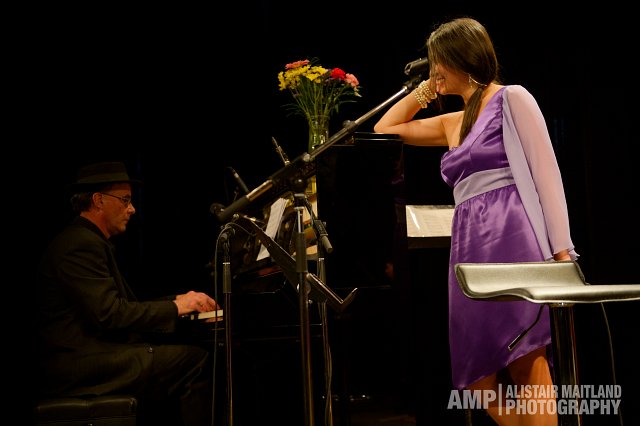 Here are Peter's notes about this pairing:
This is a full bodied red with rich dark-fruit notes, plum, spice, herbs and some tannins. I'd serve it with a steak or BBQ.
Complexity . . . percussion . . . strength . . . and perseverance. Maybe I read too much spirituality into this song, but for me, Malbec speaks to connections of faith, links from medieval Europe to the Catholic passion, and links of New World South America. Plus, the Malbec wine makers of central France refer to their dark creation as the "black blood of Cahors", which for me is an almost gospel-like description.
Check out the song here: fawnfritzen.bandcamp.com/track/cant-find-my-way-no-more