Begin the Beguine paired with Puglia Luccarelli Negroamaro
Next up in our series of songs from Pairings paired up with wines, as chosen by Peter Turner, we have a medium-bodied red wine. I love the haunting melody of Begin the Beguine when it is transposed to a minor key. This song was recorded with Calgarian drummer Karl Schwonik and I love how the track turned out. Despite the sparseness of the arrangement, it feels lush.
For the CD release, I performed this song with Ken Searcy. A fun side-note: while on tour through Ontario in May, I performed this song with George Koller using his upright bass as a percussion instrument. It was so much fun! Ken Searcy and George Koller used to play together years ago, and it was partly because of Ken that I met George. This Canadian jazz scene is a small community!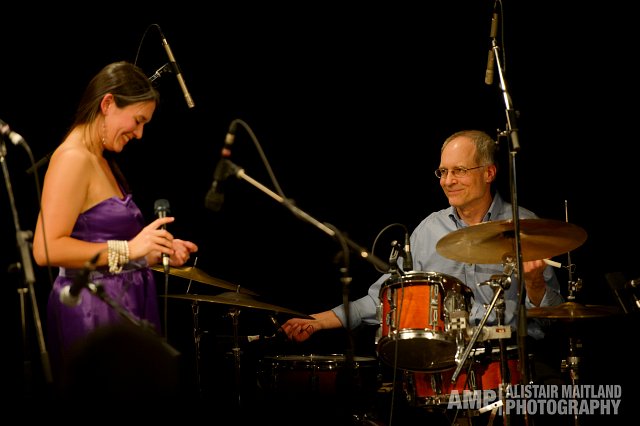 This is a mid-weight red wine, with lots of fruit flavours. In the glass, a gorgeous dark, rich garnet colour. In Cahors (the native region of Malbec), they call this "the black grape of Cahors". On the nose, that sigh-inducing, knee-buckling coffee/toffee Italian thing for sure, but also black current, pepper, and super ripe plum. On the palate, a luscious revelation. Black cherries and cassis, rich buttery toffee, and great pepper spice. Fruit forward and very smooth but balanced with great solid tannins. Structured but very sippable, this would go beautifully with a big grilled Porterhouse steak or roasted Easter lamb.
Negroamaro, translated from Italian, literally means "black bitterness", which is intriguing in its own way. The grape is nearly unknown outside of Puglia and is sometimes blended with Sangiovese or Montepulciano.
This Negromaro starts out deceptively simple, and yet there is smoke and leather and a building heat and slightly spicy finish. A second taste builds on the first, and the energy of the wine grows. I hear Fawn's intensity in this song grow the same way... a tension between control and fire!
Check out the song here: fawnfritzen.bandcamp.com/track/begin-the-beguine